About Us
Accel-RF Instruments Corporation, founded in 2003 by two recognized RF and reliability test industry leaders, Roland Shaw and David Sanderlin, is the world leader in supplying equipment for performing high temperature, long-duration reliability testing on compound semiconductors, such as Gallium-Nitride (GaN) and Silicon-Carbide (SiC).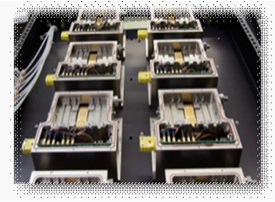 Our platforms are capable of identifying device wear-out and performance degradation to end-of-life (EOL) expectations, usually measured in millions of hours. The test equipment has enabled the successful technology development, product launch, and industry adoption of GaN transistors and MCMs into the space, military, and commercial wireless markets, among others.
Accel-RF has supplied equipment to most of the contractors participating in the DARPA wide-band-gap (WBG) semiconductor initiative in the United States and the ESA GREAT2 Program in Europe. With systems installed throughout the US, Europe, and Asia, our industry experience and global vision allow us to keep up with the demanding changes in compound semiconductor technology.
Our modular and flexible platform enables testing to a wide range of technology and application-specific requirements. Testing through various segments of the product development lifecycle is accomplished with one instrument, enabling a common platform architecture to affect an efficient and scalable test solution.
---
Who We Serve
Our test equipment has enabled the successful product launch and industry adoption of advanced transistors and integrated-circuits (ICs) into the $35+ billion existing wireless market, and the $100+ billion markets of Military Defense, and Power Electronics.
We specialize in the development, design, and production of accelerated life-test and burn-in test systems for semiconductor devices.
These systems are turnkey integrated instruments that provide a cost-effective and high-value proposition for device manufacturers, fab-less device suppliers, testing- service providers, original equipment manufacturers, system integrators, and research and development laboratories requiring intrinsic reliability identification, process-control validation, specification standard-deviation characterization, and product qualification testing.
Our targeted customer contacts are engineers responsible for reliability testing and/or device characterization functions and activities. 
Our customers are located worldwide.
Our Industries

Aerospace and Defense

Automotive

Commercial Wireless

Compound Semiconductor R&D

Space

Renewable Energy

Telecommunications

Satellite Communications

University

Foundry Services
Zoom in further to view all locations
---
Why Choose Us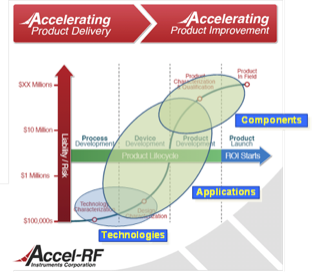 The products that have been developed in our facilities are the benchmark for test equipment used in RF High-Temperature Operating Life (RF- HTOL) measurement of GaN transistors and integrated circuits, as well as all other compound-semiconductor devices.
Mr. Shaw, our cofounder, authored the definitive reference book for the industry on the theory and methods for reliability testing of compound semiconductors. This book, together with Mr. Shaw and Mr. Sanderlin's development of the first Advanced Accelerated Reliability Test System (AARTS), both sponsored by NASA, form the basis and reference for most RF reliability testing in the world today and the genesis of Accel-RF Instruments Corporation.
Our target customers are looking for a cost-efficient, fast, accurate, and consistent way to measure performance degradation of devices that will provide them with all the information necessary to take an early action on design, manufacture, or procurement of compound semiconductors. Often, they do not have the time or the resources to develop custom in-house individual test systems themselves, or their current test equipment is severely limited in addressing rapid changes in technologies.
The way we like to describe it, our products are essentially "time machines," capable of identifying semiconductor device wear-out and performance degradation to end-of-life (EOL) expectations, usually measured in millions of hours. Our "time machine" is used for seeing into the future to quantify device lifetime predictions predicated on measurement-based results.
---
The Accel-RF Advantage
Our fully integrated, scalable, turnkey systems provide dynamic, multi-dimensional, RF, DC, and temperature tests on one platform through a powerful graphical user interface, in a small footprint, and at significantly lower cost than any competing solution. 
Our extensive technical and industry knowledge (core competencies) allows us to surpass the level of customer support provided by others in the field of RF-biased and high-voltage accelerated life testing.
Our platform solution is the only available instrument that can demonstrate compliance with aerospace, government, and commercial semiconductor life-test standards. Our customers receive maximum return-on-investment through reduced product development time, demonstrated reliability, and increased "permission-to-play" market opportunities.