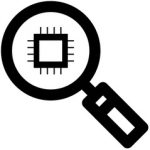 RELIABILITY TESTING WIDE BANDGAP SEMICONDUCTORS
Test requirements for semiconductor devices have changed dramatically in the last decade. Older testing equipment, designed for silicon-based device properties, cannot safely and accurately measure today's newer gallium nitride (GaN) and silicon carbide (SiC) devices. High-power semiconductor test applications require instrumentation capable of characterizing significantly higher rated voltages and peak currents than ever before.
Even more significant, the higher power density of these newer devices creates a need to test RF characteristics at much higher temperatures than silicon chips. Accel-RF's line of test equipment provides solutions to meet the challenges of performing comprehensive evaluations on this new generation of wide bandgap power devices.
IMPORTANT RELIABILITY PARAMETERS OF CONCERN
DC Bias Current
Active semiconductor components require a DC power supply to operate. The DC bias voltage and current levels are critical parameters as the power dissipation of each active element will contribute to temperature rise and drive overall efficiency.
Industries:








RF Output Power
The RF output power of an amplifier drives the overall capabilities of a transmitter. The saturation level and how the output power of a device compresses with input power is used to determine which applications and systems are suitable for that device.
Industries:







RF Gain
The ratio of RF power delivered to a load relative to the input power. How gain changes and compresses as these levels rise and approach saturation is critical to designing systems for any RF application.
Industries:





Ohmic Contact Resistance
In semiconductors, this is the intrinsic resistance through the metalized terminals of the device into the channel or junction. A physical change in the ohmic contacts, which can be an effect of metal migration, can change the resistance and impact the electrical performance of a device.
Industries:


Intermodulation Distortion
IMD occurs when two signals are present in a nonlinear system, such as an amplifier. The frequency harmonics of these two signals mix and create 2nd and 3rd order intermodulation products. Measuring and mitigating these distortion levels are critical for communication applications.
Industries:




Phase Noise
Commonly referred to as "jitter", phase noise is the random fluctuations of the phase of a signal source. It is present in oscillators and digital clocks and can have detrimental effects on a system where frequency conversion takes place. A signal with high phase noise can end up occupying more of the spectrum than intended and introduce error.
Industries:




Noise Figure
This is a critical parameter in all Receiver designs. The Noise Figure must be low for a system to be sensitive enough to detect and process weak signals. Low Noise Amplifiers (LNA) are typically the first element in a receiver and are designed to minimize Noise Figure.
Industries:





Signal Linearity
For amplifiers in RF applications, this represents the relationship between the input power and the output power of a device. At low input power levels, linearity is uniformly quantified by the gain. As input drive increases, the device gain compresses as the device saturates and the linearity characteristics change.
Industries:





Switching Response Time
The rise and fall time of RF switches used in high-frequency applications can set limitations on the bandwidth and other key aspects of a system. When used in a phased array, the switching speed can limit how quickly the beam can be steered, for example.
Industries:




Frequency Stability
This represents the ability of a source, such as an oscillator, to maintain a constant frequency output. Outside influences such as temperature and change in bias voltage can lead to drift and affect frequency stability. Stability in communication systems is required so that a signal does not drift outside of its designated band.
Industries:






TEMPERATURE ISOLATION IN RF DEVICE LIFETIME ACCELERATION TESTS
Accelerated life tests subject the part to specific harsh conditions designed to predict how long it will function under normal operating conditions using statistical analysis. A challenge associated with designing test fixtures for high power RF devices is how to isolate the device-under-test (DUT) from the measurement system thermally while maintaining a consistent RF interface over the course of the test.
Accel-RF's test equipment serves successful technology development, product launch, and industry adoption of wide bandgap semiconductor devices into the aerospace, military, and commercial wireless markets. Testing platforms from Accel-RF test for performance degradation to end-of-life (EOL) expectations, usually measured in millions of hours.
The flexible testing platform is modular and allows users to perform tests applicable to a multitude of specific requirements. The fully integrated, scalable, turnkey system enables testing on one platform to gather vital data for dynamic, multi-dimensional, RF, DC and temperature tests.
Related: Download the "Recent History and Current Trends in GaN Reliability Testing" report now.
TESTING STRATEGIES
Different test approaches exist to help manufacturers limit losses due to device failure at various stages of the production cycle. Depending on the type of deployment, different combinations of the following testing types may apply.
Intrinsic Reliability Testing – Early in the development stage of new technology, engineers must determine if the theoretical idea for a device will work in the physical world. This testing method usually takes the form of stressing the device with heat or elevated bias conditions while monitoring for signs of degradation. By subjecting the devices to stress combined with down-point characterization tests, engineers can glean useful data about exactly how a device starts exhibiting signs of a failure mode. This information is invaluable early in the developmental period to determine any needed changes to the design before full-scale production begins.
Product Qualification – Before a company releases a device, it must determine if the product will perform as expected in the intended market. The product qualification phase subjects the product to a series of tests to prove it is suited to the user's application. Engineers work from established standards, such as JEDEC JESD-47, MIL-STD 883 or AEC-Q100, to quantify the device's effectiveness. Additionally, when standards do not specify testing procedures for a new product, engineers must design an exact testing procedure that sufficiently simulates the actual use environment.
Process Characterization Monitoring (PCM) – Once a fabrication process has been developed and validated, process characterization monitoring (PCM) is used to verify that key performance and reliability metrics are met on each wafer that goes through the fab. On each wafer mask, test devices are included that are not intended to go into a product or even leave the facility.  These devices are used for in-house process validation and yield improvement. This is accomplished by repeating certain aspects of the intrinsic reliability approach or through a more standard screen test. If any lot of devices exhibit a drop in a key performance metric, the details of that particular wafer fabrication can be reviewed in detail to determine the potential impact on the actual production devices generated on that same wafer.
RF Burn-in Testing – Burn-in is different than accelerated life testing in that it is not concerned with forcing a chip to fail to gather statistical data on the cause. Instead, this testing weeds out subpar devices before they enter the field.
Related: Access our Reliability Testing Demo: "How to leverage your Accel-RF Turnkey Test System" here.
The reasons for these early failures are usually extrinsic to the device itself, such as poor die attachment or wire bonding after a higher-level assembly. These defective parts will either fail or show a sufficient level of performance degradation to receive a no-pass grade. Manufacturers also use this test to determine acceptable performance dips in a batch of devices. If the majority of devices' performance stabilizes within a preset boundary, the group passes inspection and goes to the customer.
TURNKEY SOLUTIONS FOR ADVANCED TESTING NEEDS
With decades of semiconductor reliability expertise, Accel-RF engineers have honed hardware and software solutions to meet the toughest testing challenges. The unique mechanical design integrates an embedded heater into Accel-RF test solutions while maintaining excellent thermal isolation from the DUT to the rest of the platform. Test fixtures include integrated analog/digital temperature control boards, DC/RF pulsing setups and an innovative clamping system that allows complete testing without "hard-mounting" the device.
The available testing modes let designers see how well a device performs across a wide range of frequencies and RF power levels while it is subjected to high temperatures. It makes time travel possible by projecting into the future and retrieving data about how long a device will last when used in real-time.
To realize the maximum ROI, chip manufacturers serving the aerospace, government, and commercial applications must prove compliance with industry standards. Accel-RF's customers can demonstrate reliability, which reduces overall development time and opens up increased market opportunities.
Download the Guide to Reliability Testing Solutions for Compound Semiconductor Research and Development
Learn the role reliability testing plays in the development of compound semiconductor devices and how to capitalize on this ever-changing market.